Location
Broomall
56 N. Sproul Road
Broomall, PA 19008
(P) 484-454-3346
(F) 484-454-3348
Emergency Service Available
Proudly serving Philadelphia, Delaware, Chester and surrounding counties in Pennsylvania and New Jersey:

Bucks
Chester
Delaware
Montgomery
Philadelphia
History
DzO Mechanical is a privately owned mechanical services company that specializes in residential and commercial heating, air conditioning and ventilation work. Lou DiLuzio founded our company in 2000. Lou graduated from Pennco Tech in 1994 and has been making his mark in the industry since then. When Lou founded DzO he wanted to create a customer focused full service mechanical company that would bring value to his customers.
Lou believes that all customers are important regardless of how big or small they are. In today's world it is important to stand out in the crowd. Life has taught Lou that the best way to do this is to simply do a fair days work for a fair price. He has learned that people respect and remember this more then anything else, resulting in many happy referrals!
Lou invites you to try DzO Mechanical in the future for your heating and air conditioning needs. Please go to the special offer page for new customer coupons. If you give us a chance to earn your business, we will do everything we can to make you a satisfied customer!
Our Qualifications
We are heating and cooling professionals! We maintain a high level of quality among our staff. All of our installers and technicians are trained on a regular, on-going basis. We are certified by the following industry organizations:

State of Pennsylvania License Number: PA044482 Bonded & Insured
BRYANT DEALER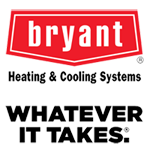 What makes a Bryant Dealer stand out is the unparalleled performance the company offers - true excellence in every aspect of operations, product solutions and technical know-how.
BBB
The Better Business Bureau (BBB) system in the U.S. extends across the nation; coast-to-coast, and in Hawaii, Alaska, and Puerto Rico. Since the founding of the first BBB in 1912, the BBB system has proven that the majority of marketplace problems can be solved fairly through the use of voluntary self-regulation and consumer education.
Delaware County Chamber of Commerce
The Delaware County Chamber of Commerce, formerly known as the Board of Trade of Chester & the vicinity, has been the voice of the region's business community since 1887. It has been the Chamber's mission to enhance businesses throughout the region and promote the economic well-being of the county for 120 years. Today, we continue to focus on providing our members with valuable benefits, strengthening the quality of life within the community, serving as your liaison between business & government, and preparing our future workforce.
Refrigeration Service Engineers Society (RSES)
Since 1933, Refrigeration Service Engineers Society (RSES) has been a leader in training and education for professional HVACR technicians and contractors.
Mission Statement
To provide opportunities for enhanced technical competence by offering comprehensive, cutting-edge education and certification to our members and the HVACR industry. To advance the professionalism and proficiency of our industry through alliances with other HVACR associations.
International Code Council
The International Code Council is a member-focused association dedicated to helping the building safety community and construction industry provide safe, sustainable and affordable construction through the development of codes and standards used in the design, build and compliance process. Most U.S. communities and many global markets choose the International Codes.
The International Codes, or I-Codes, published by ICC, provide minimum safeguards for people at home, at school and in the workplace. The I-Codes are a complete set of comprehensive, coordinated building safety and fire prevention codes. Building codes benefit public safety and support the industry's need for one set of codes without regional limitations.